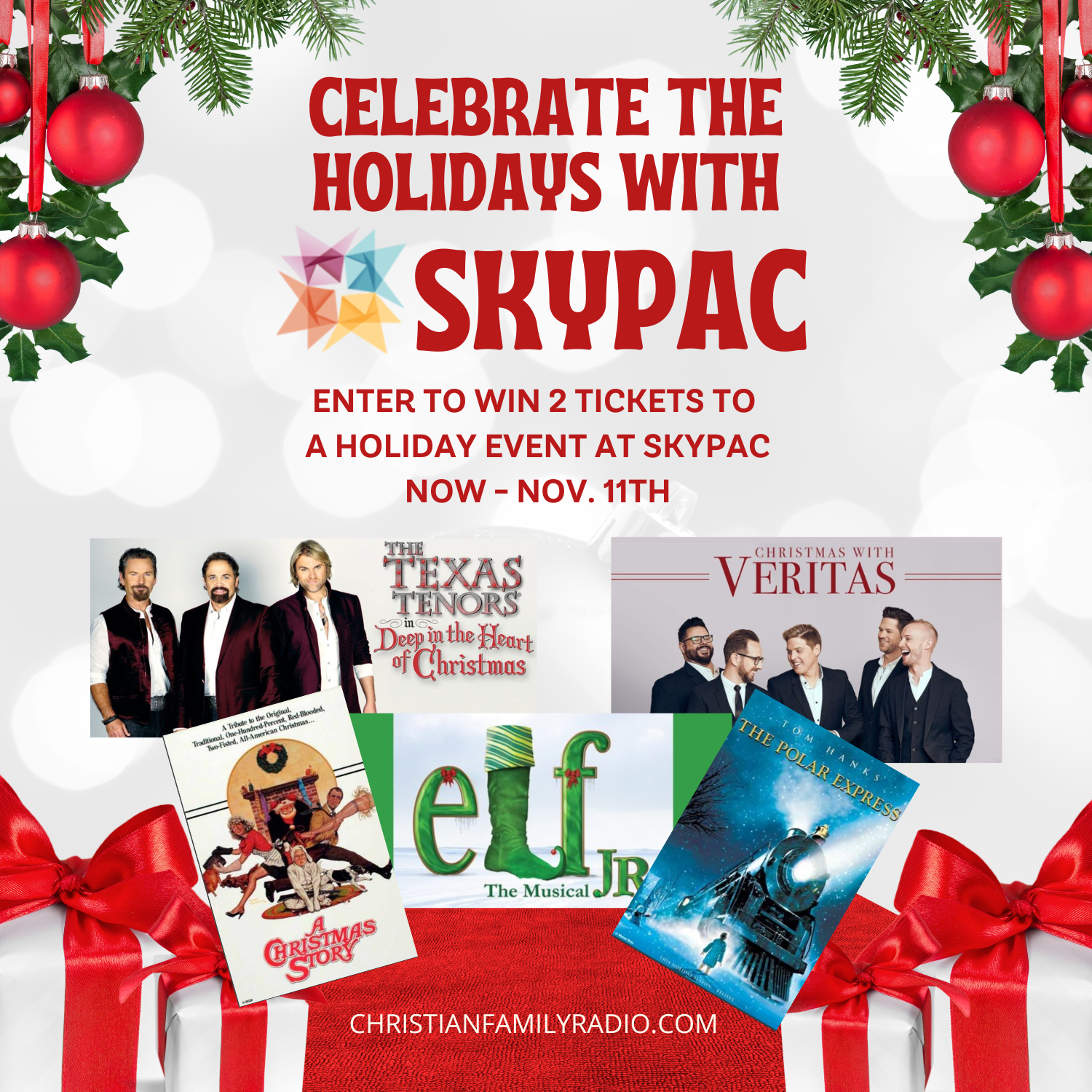 Contest Rules:
1. NAME OF PROMOTION: Happy Holidays from SKyPAC
2. SPONSORS: Christian Family Radio, SKyPAC
3. DESCRIPTION OF PRIZE(S): (2) Tickets to see the Texas Tenors, (2) Tickets to see Veritas, (2) Tickets to see Elf Jr., (2) Tickets to see A Christmas Story, (2) tickets to see the Polar Express
4. VALUE OF PRIZE: No cash value
5. MINIMUM AGE TO ENTER: 18
6. HOW TO ENTER: Participates will go online to the Christian Family Radio Website and answer a question of the day about Skypac to enter the drawing for a chance to win one of the pairs of tickets. Participates may enter multiple times, once per day of Promotion Period.
7. DEADLINE FOR RECEIPT OF ENTRIES: Friday, November 11th, 2022 – 4:00pm central time
8. PROMOTION PERIOD: Promotion Begins: Monday, November 7th, 2022 at 10:00am central time. Promotion Ends: Friday, November 11th, 2022 at 4:00pm central time.
9. NUMBER OF WINNERS: Five (5)
10. METHOD OF SELECTION OF WINNERS(S): Winner(s) will be determined by random drawing.
11. PRESENCE REQUIRMENT: Winners need not be present to win
12. DEADLINE FOR CLAIMING/REDEEMING PRIZE(S): Texas Tenors (November 19th 2022), Veritas (November 26th 2022), Elf Jr. (December 2nd 2022), A Christmas Story (December 10th 2022), Polar Express (December 11th 2022)
13. ALTERNATE WINNER(S) if potential winner(s) do(es) not qualify, decline(s) acceptance of prize(s), or is unreachable/unavailable: Yes
NOTE: By entering the contest you give the station the right to use your video/voice/image/likeness on the air, online, and on social media.