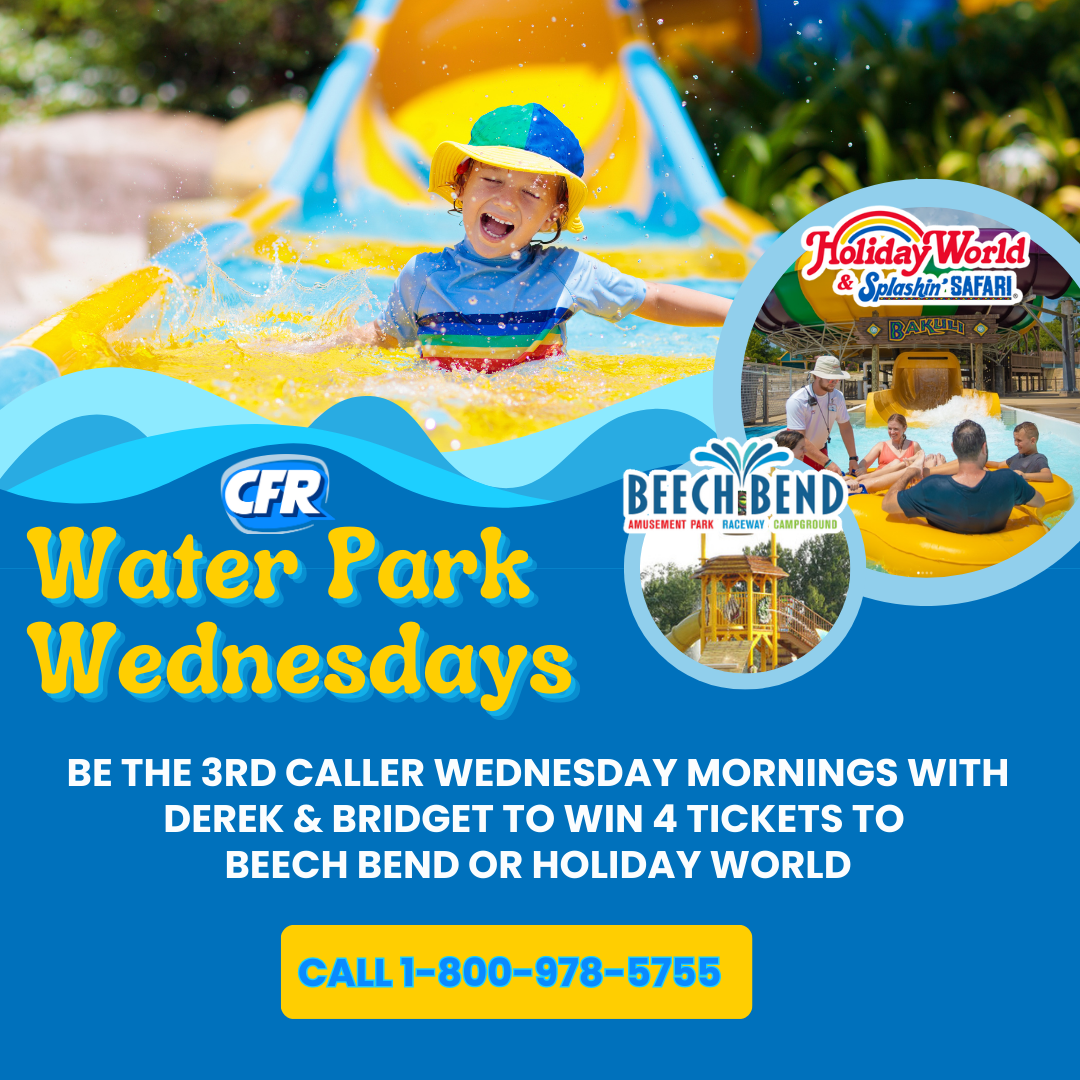 Listen to the CFR Morning Show every Wednesday to win 4 to a local waterpark (Beech Bend or Holiday World). Be caller #3 and answer Derek & Bridget's "We Wanna Know" question.
Official Rules
1. NAME OF PROMOTION: Water Park Wednesdays
2. SPONSORS: Christian Family Radio, Beech Bend Park, and Holiday World
3. DESCRIPTION OF PRIZE(S): Four (4) tickets to Beech Bend Park or Holiday World Splash & Safari to be used within the participating season.
4. VALUE OF PRIZE: Approximately $40
5. MINIMUM AGE TO ENTER: 18
6. HOW TO ENTER: Be the 3rd caller and answer Derek & Bridget's "We Wanna Know" question.
7. DEADLINE FOR RECEIPT OF ENTRIES: Not applicable
8. PROMOTION PERIOD: Promotion Begins: Wednesday, June 14th, 2023 at 6am central time. Promotion Ends: Wednesday, August 16, 2023 at 9am central time.
9. NUMBER OF WINNERS: Ten (10)
10. METHOD OF SELECTION OF WINNER(S): The third (3rd) caller to 1-800-978-5755 to answer: "We Wanna Know" question.
11. PRESENCE REQUIRMENT: Winners need not be present to win
12. DEADLINE FOR CLAIMING/REDEEMING PRIZE(S): August 16th, 2023
13. ALTERNATE WINNER(S) IF POTENTIAL WINNER(S) DO(ES) NOT QUALIFY, DECLINE(S) ACCEPTANCE OF PRIZE(S), OR IS UNREACHABLE/UNAVAILABLE: Yes
NOTE: By entering the contest you give the station the right to use your voice/likeness on the air, online, and on social media.