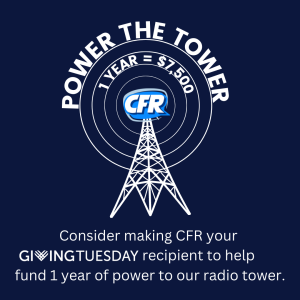 November 28th is Giving Tuesday -  a time for you to set the tone of your Holiday season with generosity. We humbly ask you to consider your favorite broadcast ministry as your Giving Tuesday target this year. In one day, we hope to cover a full year's expense to Power the Tower.
CFR broadcasts a signal 24 hours/day for 365 days/year! Did you know that's a total of 8,760 hours? Our tower never takes a day off, and neither does the power that sends the signal to you!
For 1 year it takes $7,500 to power the tower that broadcasts CFR's signal to you.
1 Month of power = $625
1 Week of power = $145
1 Day of power = $20.55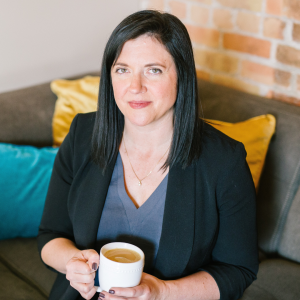 Old Patty. Patty went to church briefly as a child and just assumed she was "saved." As an adult, she found CFR and what she heard made her want to go to church again. It took some time but she finally found a great church that helped her make a deliberate decision to surrender her life to Jesus. Patty said it was the first time in her life she truly felt loved--by God and by others. Your previous generosity supported Old Patty until she found a faith community who could lead her to the Lord.
New Patty. Now that she's got a local faith community, CFR strengthens her faith. No matter where you are in your faith journey, CFR helps you get one step closer to Jesus.
Your support strengthens the faith of every CFR listener—thank you!
Monk is an usual name, especially with a background like his—almost 3 decades as an addict. He's had a life transformation thanks to the power of Jesus. Many testimonies from recovering addicts involve staying strong, but Monk has another reason the music played on CFR is essential to him. He's able to worship and praise the Lord because of the music—even at work! He says, "don't be surprised if you drive by and see me with my hands raised up on a roof!" Songs like "Raise a Hallelujah," and "Burn the Ships," fuel his faith. Monk even told us that he uses our music to share Jesus with his coworkers.
When you support CFR this Giving Tuesday, you are providing praise music anyone can use to worship the Lord—even at work!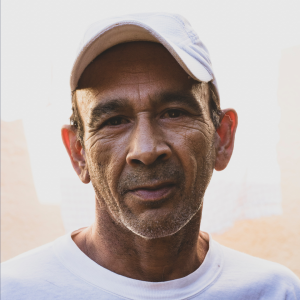 Carol was on the line with a quivering voice that comes from being on the verge of tears. You could hear "Perfectly Loved" by Rachael Lampa in the background.  "Thank you for playing these love songs…especially during a season when people can feel alone and depressed."  Carol lost her adult son a few years ago and as a result, her other son has really struggled.  This time of year is hard for her family.  But Carol wasn't emotional because of sadness.  She was overcome by the love of Jesus because she was listening to Rachael Lampa's lyrics.
When you help cover the annual $7,500 electric bill for the tower, you are helping Carol and others like her to experience comfort and soul healing with the Love of God.