The totals are officially in and the 12th Annual Socks for Seniors was the largest in CFR history.
Over 60 businesses served as collection locations
7,060 pairs of socks were donated
Serving over 45 senior facilities in the listening area.
Thank you to listeners who donated, businesses who participated, and to volunteers who gave their time!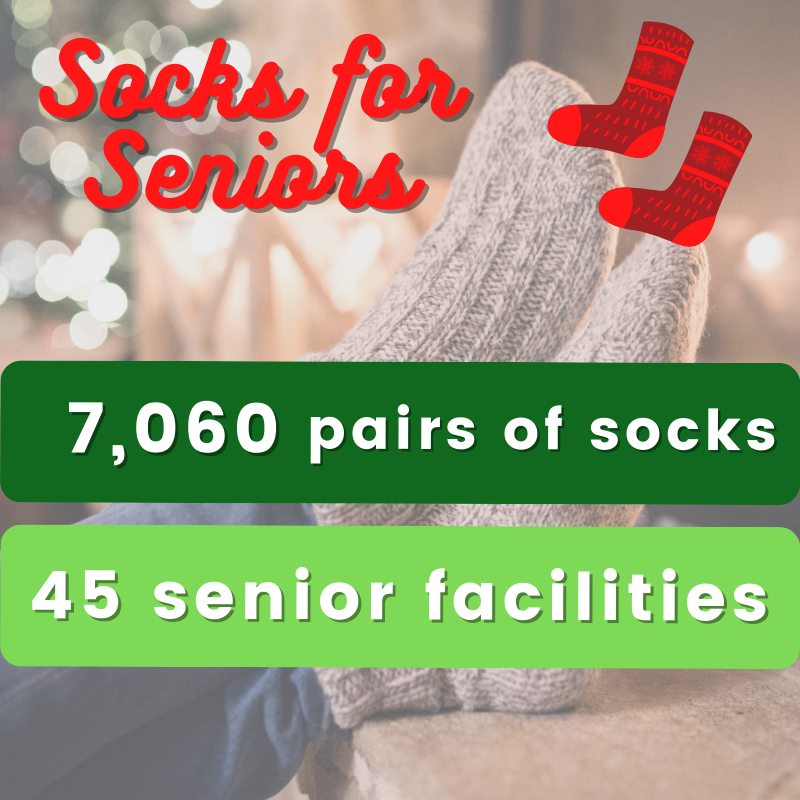 What kind of socks?
Funny, funky, holiday styles that you can find.
Fun Fuzzy 

Socks

Colorful long 

socks

White Tube 

socks

Socks

 with grips on bottom (to prevent sliding)
Orthopedic 

Socks

, etc.
The brighter the better!
Mission
Socks fore Seniors and it's volunteers have one priority this Holiday season and that is to bring holiday cheer along with a pair of new socks to warm the hearts and cover the cold feet of our elderly.
Why?
The Holidays are a fun time of year with all the work parties, gatherings, with all the bells, whistles, hustle and bustle of the season. But for some it can also be a depressing time of year. Our seniors can get lost in the shuffle.
Each year, thousands of lonely and financially challenged seniors struggle with the holiday blues. They dread facing the holiday season alone – some being without family or friends, some with the isolation of being a widow or widower.  Some seniors just being away from children and grandchildren produces extreme loneliness that's exaggerated by festivities of the season.