Story by Casey Franklin, RN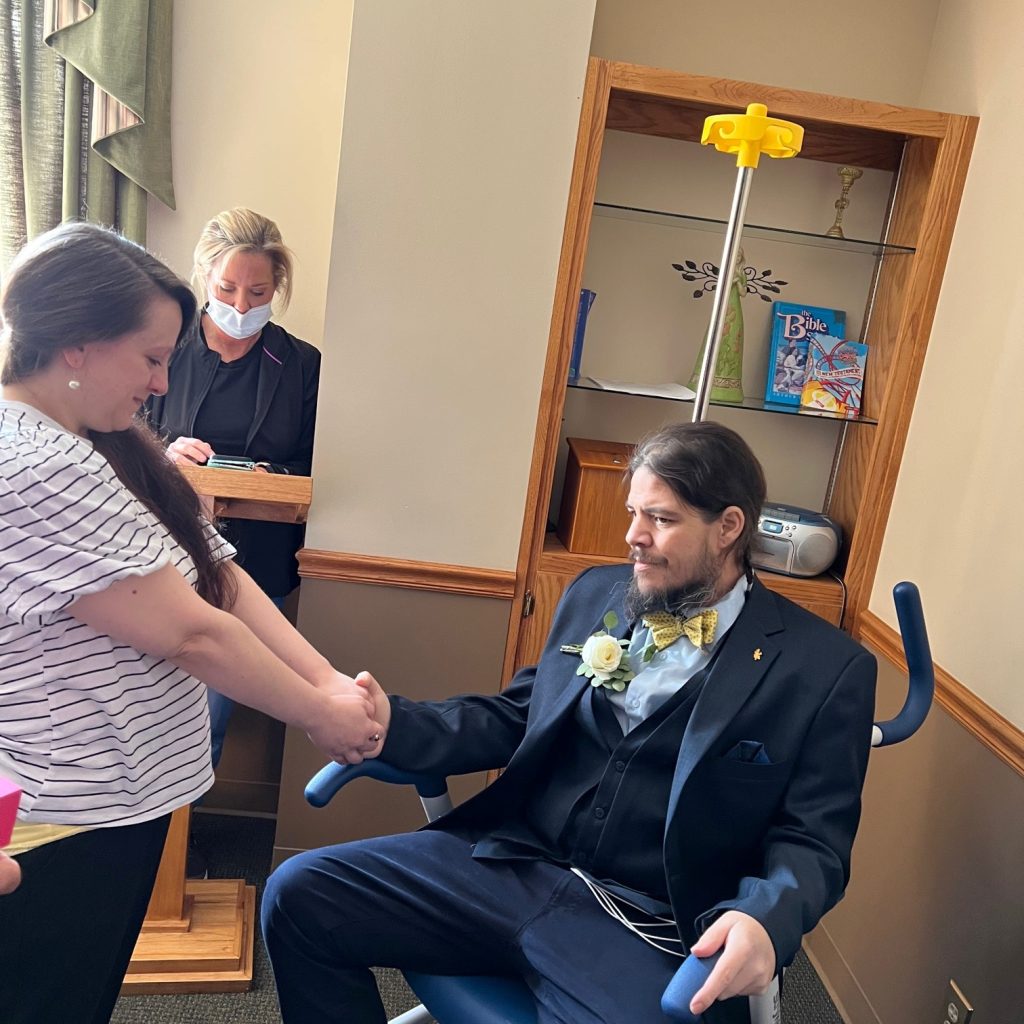 Balloons and streamers; cake and flowers and gifts wrapped in white. It all looked exactly like what one would expect to see on a typical wedding day. But this wedding day was anything but typical—because it would occur right in the little Chapel beside the Intensive Care Unit at T.J. Samson Community Hospital.
The groom, Shawn Peacock, is a soft-spoken man in his 30's. Shawn had received a life-altering diagnosis while in the hospital. His condition was so fragile that it was not clear if or when he would get to go home. For many, the moment that such a prognosis is given is one of sheer tragedy. Fear of loss, pain, and the uncertainty of what is to come for oneself, family, and friends can dominate the mind of the person afflicted. But this was not the case for Shawn. His thoughts were only of his deep and abiding love for his fiancée; Sarah Anderson. So when he was told of his heartbreaking diagnosis, Shawn locked eyes with his nurse, and he said what was on his heart, "I know I'm going to survive this, but I'm not leaving here without being her husband."
Nurses are trained for all sorts of situations. They know how to deliver both good news and bad. They know how to balance caring for a body while tending to a heart. But planning a hospital wedding on short notice is not on their usual list of duties.
Everyone who heard the news wanted to help and flew into action. Physicians, nurses, aides, housekeepers, the Marketing Department, the Quality Department, the Gift Shop, and a few local businesses quickly collaborated to prepare for this moment of happiness with Shawn and Sarah. Within one whirlwind day, the cake was ordered, the decorations were purchased and hung, the flowers were delivered, and the balloons were inflated.
Then Shawn had a bad day. And another. And another. The wedding was pushed back until the morning of Sunday, May 8, when he was strong enough to move forward. But who would officiate? Pastors tend to be pretty busy on Sunday mornings! Enter one very special nurse, who went online and got her officiant's license so that she could conduct the ceremony herself.
The most incredible summary of this breathtaking event is found in the words of Shawn himself:
"I've been in hospitals where I've walked in sick and walked out two weeks later thinking, 'I don't know if I feel any better.' But here, I walked in, and within 24 hours, my thoughts were, 'Wow. There are people here who want to save my life.' I want to tell this story. I want the community to know about it, and about this place. I want to honor my wife, but also everyone here. I want people to know that you can go out and get healthcare…or you can get excellent healthcare. That's what this place does. I know for some people, it's not ideal, getting married in a hospital. But for me, I would not have wanted it to be any other way. Your team made this the best day of my whole life. Some people may look at you as 'just staff'- Doctors, nurses, housekeepers. But they should see you as the instruments of God; placed here to create a little bit of happiness for mankind."
It has been an emotional few days for everyone involved in this first-of-its-kind event at T.J. Samson Community Hospital. On behalf of the entire T.J. team, we wish Shawn and Sarah all the best.
---
About T.J. Regional Health
T.J. Regional Health, the parent system of T.J. Samson Community Hospital and T.J. Health Columbia is fully accredited by the Joint Commission. In addition to two hospitals, the organization owns and operates the T.J. Health Pavilion, which provides outpatient care and physician offices as well as a Family Medicine Center and Residency Program, Home Care Services, Rural Health Clinics, the Shanti Niketan Hospice Home, and a Med Spa in the South Central Kentucky region. For more information about the services offered at T.J. Regional Health, please visit www.tjregionalhealth.org.